Free Whitepaper
Solving the Tech Riddle
A comprehensive guide to selecting and implementing new technology that will make your business run better.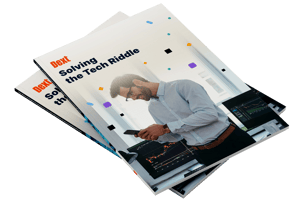 Complete the form below to get access
What you'll learn from this whitepaper:
New Technologies: Understanding how new technology is an opportunity and not a threat to the modern firm
Identifying Opportunities: Understanding gaps in your firm to identify growth opportunities
Adopting Technology to Your Business Needs: Successful ways to implement technology in your system.
Real-Life Examples: Case studies of firms that went digital-first and transformed their efficiency and profitability
Our Tech Stack Recommendations
How to adopt new technology in your everyday accounting
The following whitepaper focuses on new technology today, the types of new technology we have readily available, and how to best utilize what we have when identifying opportunities. We provide real-life examples of how these technologies have significantly helped business owners and general accounting needs. Download the whitepaper to read more on the topic.
New Technology Dominating the Accounting Field
In a Salesforce Future of Work Study, it is said that in the next 6 months the most important skill will be adaptability.
data-analysis is the next most important skill-set
"As all bookkeepers know, there are 2 different ways to tackle a bookkeeping file. You are using the bank statements or the receipts as your source documentation. If you are using the bills, that means you are going into QBO and continuously clicking "New Bill" and manually inputting information like the date, supplier, amount, tax amount paid, and more. But what if I told you that there was a faster way?"
Mustaqueem Khan, CPA, Dext (Product Consultant)